This is a no-cost, 9-week book study discussing:
A New Textbook of Americanism.
We are meeting online, 9am-10am Eastern,
Saturdays, October 23rd through December 18th 2021.
You can register at anytime. (The readings are short.)
You only have to register one time.
The link is the same every time.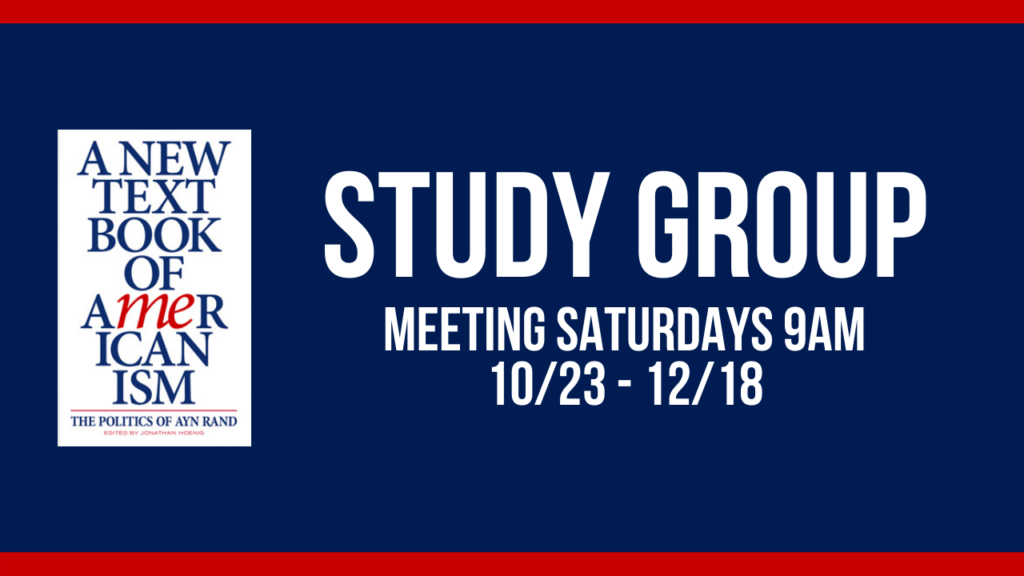 This Is For Anyone Wanting To:
-Get to know Christians defending individual rights and capitalism.
-Sharpen skills in defending America's unique principles.
-Explore connections between Christianity and Ayn Rand's political work.
How to Prepare:
-You can use the physical book, audiobook, or ebook.
-We will review around 2 chapters per week.
-Please come having already read the chapters for that week.
-Be ready to interact in the comments or on audio or video.
This book study is free and public. Replays will be posted (see below).
You can appear on camera if you would like, but this is optional.
You are welcome to invite friends.
To get an invite, or for questions, email us here.
List of dates and readings:
10.23 Ch 1-2 (pg vii – 16)
10.30 Ch 3-4 (pg 17 – 34)
11.6 Ch 5-6 (pg 35 – 51)
11.13 Ch 7-8 (pg 52 – 68)
11.20 Ch 9-10 (pg 69 – 86)
11.27 Ch 11-12 (pg 87 – 104)
12.4 Ch 13-14 (pg 105 – 124)
12.11 Ch 15-16 (pg 125 – 150)
12.18 Ch 17-19 (pg 151 – 181)
Audiobook: Listen to 2 chapters per week.
Text version: Read around 18-20 pages each week.
This is an opportunity to get to know each other.
We are laying the foundation for future events FTNCI will be organizing.
If you have been looking for a low-barrier way to get involved, this is it!